Emily (aka "Emmie Ooo Ooo")
Our chocolate girl out of Bella, so back to our Twilight theme names. Nessie unlike our other Bella daughters, is a little more reserved but still has that very sweet and silly trait. She is now enjoying retired life being spoiled by Paula & Cristian.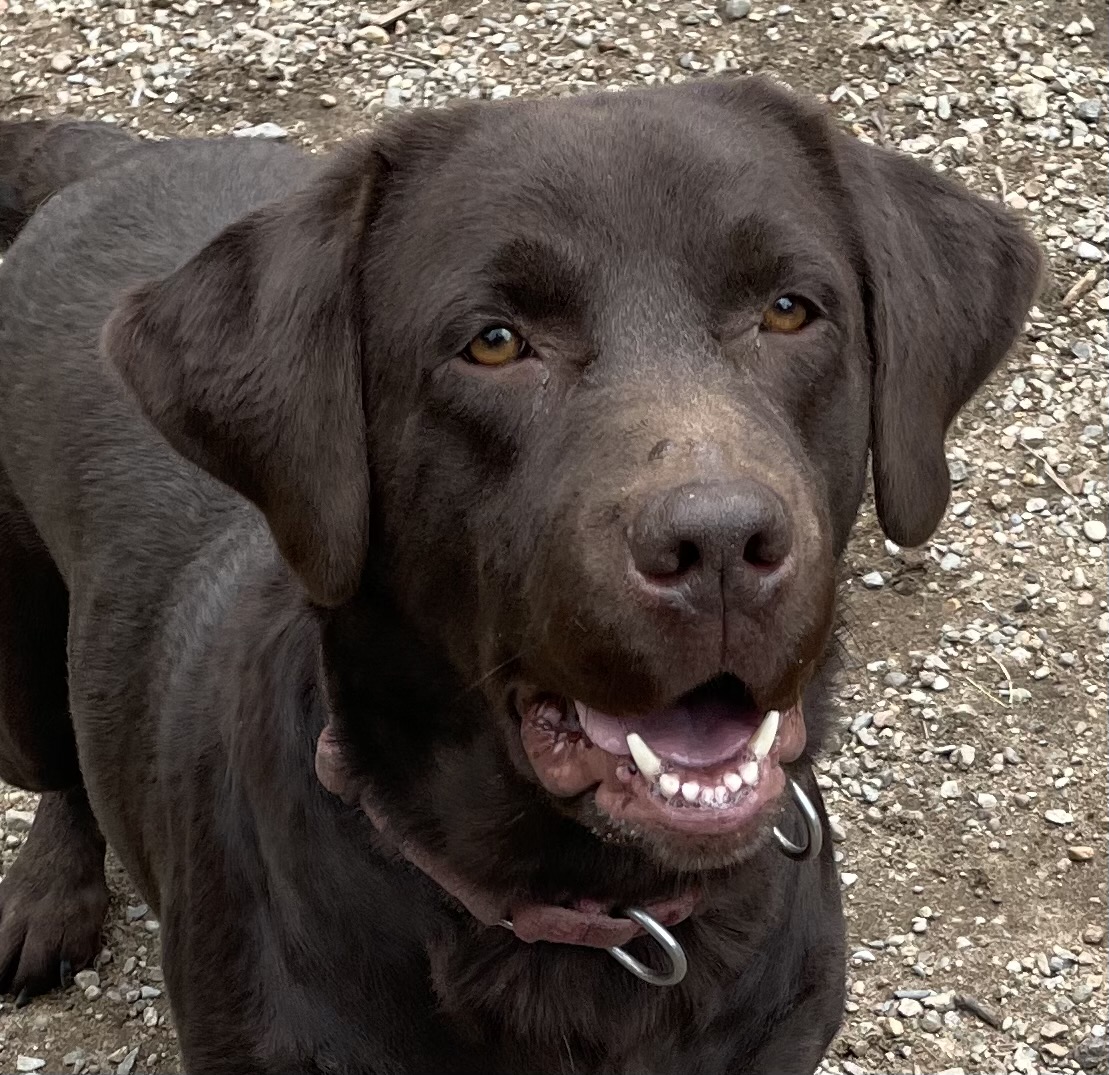 Daughter of Penny, granddaughter to Koda. She has many of their traits: the love of playing ball, water, and especially being with and near her people! Truffles is now retiring with the Cooper-Alyes family and is being spoiled by their daughter Grace.
Our Nutter Butter and Queen Cuddles … the runt of her litter (one would never know that now) who turned out to be my Pick-puppy. She loves to think she's still that little puppy to this day. If your lap is empty, it won't be for long! Even though she shows very little, at her first show spring 2011 — a specialty show held by our local Lab Club — she made the cut in a very large class and then placed 4th. One would have thought she won the whole show by our excitement! She may hit the ring again for her veteran years, but for now, she's our resident couch/chair hog.
Tessa we imported from Bulgaria as a pup, we were very excited about her and having some new & different lines. We did show her a little but unfortunately when it came time for her OFA finals she did not pass so we felt it was best to place her. She now spends her time greeting new friends at a Bed & Breakfast in Vermont. We can't thank Marcia enough for giving her a loving forever home.
Daughter of Jenna, sister to Keller she was only shown as a pup, she had one litter for us when someone came to meet another girl I was placing and fell in love with her. Not being a show dog and having her sister and now a daughter to continue with, we decided to allow her to start her wonderful life as a spoiled couch dog. We thank Pumpkin for loving and taking such good care of her.
Daughter of Jenna, sister to Rashel, I called her my silly devil dog. She'd sneak up on you, then pounce with her paws stretched out like fingers as if to say Aaarrhhh Hi!  Her energy and animation showed nicely in the ring when shown we had fun trying out field work with her too. She is living the country life with horses, donkeys, chickens, peacocks, and her new brother "Knightley" to play with, but cuddles in the evenings with her new owner Ginny & Nod. Thanks for loving and giving our silly girl a forever home.
All my dogs KNOW and LOVE pizza and the pizza delivery person, so we always wanted to use that at some point. She got her nickname right from the start, always the freshest pup in her litter so, "Freschetta" it was! She was a sweet, happy girl who is now loved and enjoying her retired life with the Gallahers.
Daughter of our Peanut, she was placed with another breeder as a pup. Situations changed, and she came home to us. Sweet and loving like her mother with a good structure and beautiful coat, but one cannot forget that cute zipper down her nose. Dove is now enjoying retired life in New Hampshire with the Johnson family and reunited with her littermate sister, Lucy that they purchased as a pup.
Our 'kissy kissy' girl who forever wiggles, wrapping herself around you, walking directly in front of you using her tail to whack you as she looks up at you licking her lips (her way of kissing). She loves to give kisses yet sometimes plays hard to get by turning her head away when you want that kiss … so silly! Though never a show dog, she's produced nicely for us giving us beautiful children to continue with.
Daughter of our Rashel who we shared with a close breeder friend (Gayle of Candy Acres Labradors), that came back to stay with us part of our agreement. Candy loves to sit up on her hind legs with paws up for attention and became grandma's cuddle buddy! As hard as it is to let her go, Candy remains part of the family, she is now enjoying her retirement in Upstate NY with my cousin Kim where she's spoiled daily and enjoying all the love from of Kim's grandchildren.
Zephie A daughter of Bella. I can honestly say Bella is definitely passing on her silly and kissy trait to her pups. Zephie has an absolute LOVE for ball play and lets you know it! She will remain part of our family and will now join her friend Candy who's been enjoying retirement with my cousin Kim in Upstate NY. I'm quite sure she'll be spoiled daily and enjoying all the love of Kim's grandchildren.
Daughter to Zephie, granddaughter of Bella. Her retirement came a little earlier than expected but will be joining the Woodard family to start the next chapter of her life. We wish them the best of luck with Cheza.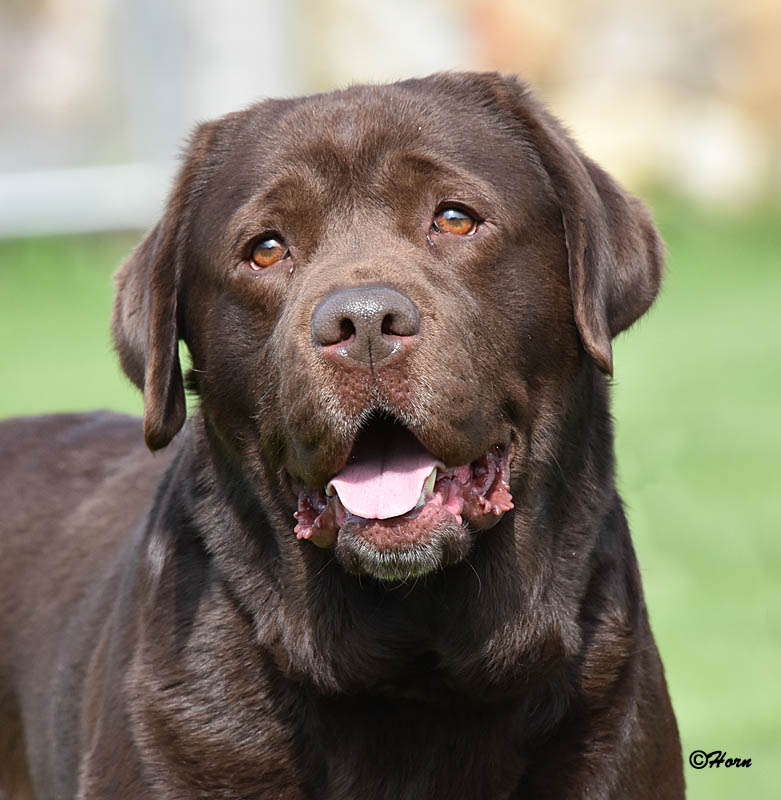 Shay is my Polish import, she's a BIG girl — such a lover & bit silly — but we wouldn't have it any other way!
Daughter of Peanut, like her mother, she is sweet, affectionate with just enough spunk! We are going to miss her. She's joining the Druker family and will have 3 boys to play & cuddle her in her retirement years.
Daughter of Candy who came back to live with us after being placed with another breeder. She is just a goofy, silly girl who like her momma loves to cuddle. She now is enjoying retirement with the Whitney family.
Daughter of Penny, with a sweet laid back temperament like her grandpa, Koda. Cami, like her mother, is now is enjoying her retirement and one-on-one time with Christine & Mac McDonough.
Daughter of Truffles. She's full of spirit, spunk, and a bit of naughty, but she sure is cute! Our first girl to earn points towards her AKC championship — thanks to Karen Day.
She'll now be enjoying her retirement time with the Williams family in Miami FL and be close to my sister & her pup, Morpheus.